Secret Police release its first single ever "Bootie Call" on the 2nd of March 07!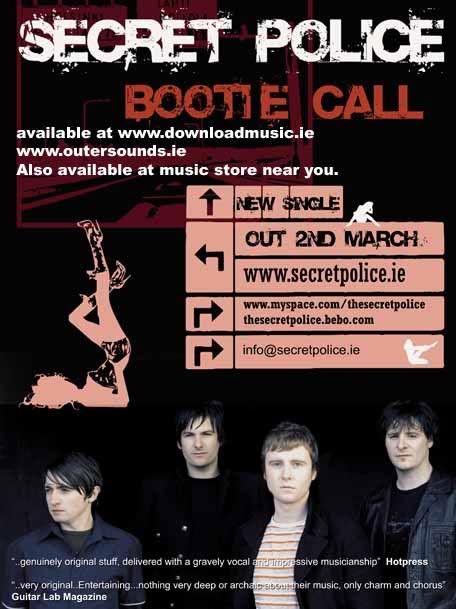 Here is what Hotpress has to say about it:
"There's something oddly appealing about a rock band from Limerick writing song called "Bootie Call" and thankfully the actual record matches the prospect. This is genuinely original stuff, delivered with a gravely vocal and impressive musicianship."

GuitarLab has this to say:
"very original..entertaining with an anthem like chorus. There's nothing very deep or archaic about their music, only charm and chorus."

The single is available as mp3 download on
www.downloadmusic.ie
www.outersounds.ie

CD singles are available in some shops near you. If you can't find one and want to purchase one, let us know.

Bootie Call tour kicks off at the Underground, Baker's Bar, Limerick with an all ages gig at 2pm and single launch night at 8pm.

The rest of the gig schedule will be available in the gig section!

Spread the word, buy the single, spread the Bootie around! Secret Police thanks you in advance for your support! Rock on!

See ya on the road!