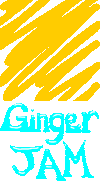 contact name:Gerry Doyle
phone: 0879956659
Email this Organisation
Visit Website
Skype:
ICQ: Get ICQ now

Indie Music Label Ginger Jam Music was formed to take advantage of all that the digital age can offer to local musicians and music fans alike. Based in County Clare, Ginger Jam Music focussed primarily on folk-rock from Bushplant and Mary Custy, but now features music as diverse as psychedelic and punk.

Ginger Jam Music forms a nucleus to allow a musical scene to coalesce around it, to support bands that might otherwise have nowhere to go, and to present these bands to the world on an entirely non-contractual basis.

Ginger Jam Music encourages local musicians by arranging gigs, photography, web presence, transport, PR, album design, distribution, publicity, and general good vibes.

Punching well above its weight, Ginger Jam Music has arranged to have all the acts on its roster available for sale all over the world via iTunes, Amazon, Napster, Rhapsody, Sony, Audio Lunchbox, 24-7, and many more.